Custom Search
Flash Player Codes by mailboxdrive.com
MTV Awards Michael Jackson Intro
Madonna Remembers Micheal Jackson
Michael Jackson's ex-wife Debbie Rowe wants children back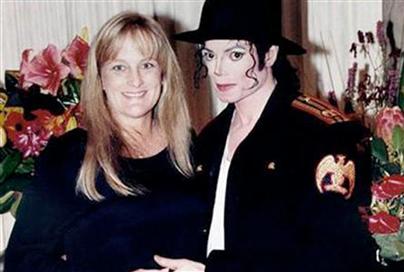 MICHAEL Jackson's ex-wife, Debbie Rowe, is likely to gain custody of his two older children.
US legal experts have indicated that Jackson's former wife the mother of Michael Joseph Jackson Jr, 12, and Paris Michael Katherine Jackson, 11 - is in a strong position to take custody, after not having seen the the children for 10 years, The Sunday Telegraph reports.
Jackson's youngest child, Prince Michael Jackson II, 7, was born to an unknown mother, so may be cared for by thesinger's family. Professor Scott Altman, of the University of Southern California law school, said: "When a child has two legal parents and one dies, the other takes custody."
To gain custody, Jackson family members - or individuals named in the singer's will as guardians - would have to show that granting Ms Rowe custody would harm the children.
MJ Dead!?!
Michael Jackson was pronounced dead on Thursday June 25th 2009 in LA, California. He suffered a heart attack and was in a coma before he passed away. People are still trying to figure out the reason for his sudden death at age 50. It is believed that the painkillers MJ was taking is linked to his death. Family and friends confirmed Jackson was taking drugs to help him deal with stress for his upcoming concerts in London.
Micheal Jackson
Date of Birth: August 29th 1958, Gary, Indiana, USA
Date of Death: June 25th 2009, Los Angeles, California, USA
Birth Name: Michael Joseph Jackson
Nickname(s):The Gloved OneWacko JackoJackoKing Of PopMJ
Height: 5' 10"
Spouse:Debbie Rowe (15 November 1996 - 8 October 1999) (divorced) 2 children
Lisa Marie Presley (26 May 1994 - 18 January 1996) (divorced)
Trade Mark:The Moonwalk.
Single sequined white glove.
He always wears white socks with black shoes.
High-pitched voice.