Avril Lavigne`s New clothes line-Abby Dawn!
Rocker chick Avril Lavigne is teaming up with retailer Kohl's to launch her own clothing line in July, reports USA Today
The juniors' collection, named Abbey Dawn after Avril's childhood nickname, will be "a lot of hot pinks and blacks and stars and purple and zebra. Basically, everything I wear. I have a very particular style. I want it to be available to a lot of girls, and I want it to be affordable. I walked through (a Los Angeles) Kohl's the other day and said, 'Oh, when my line is here it's totally going to stand out."
Proving she's more than just a performer, Avril added, "I actually am the designer. What's really important to me is that everything fits well and is well-made, so I try everything on and approve it all. I'm making sure that I think people in their 20s are going to wear it because it's going to be a sexy fit, not just, 'Oh, T-shirts and hoodies.' The hoodies are slimming. It's not a thick, bulky material."
Pieces from Abbey Dawn will range from $24 to $48.
And fashion isn't the only new venture Avril, 23, is pursuing. Says Lavigne, "I want to — it's just going to sound crazy, but I'm going to make it happen — I want a film career," b
Custom Search
Flash Player Codes by mailboxdrive.com
AVRIL LAVIGNE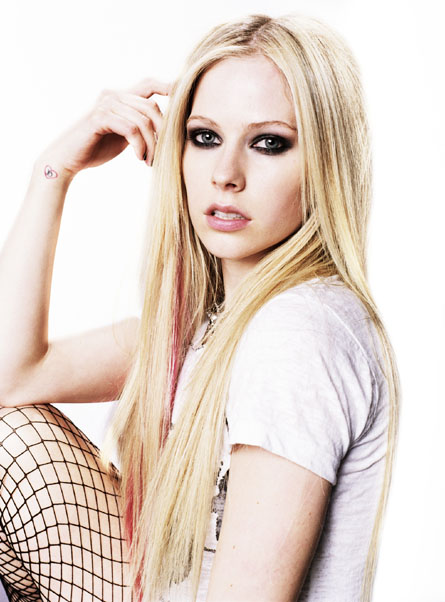 Full Name : Avril Ramona Lavigne
Date of Birth : September 27, 1984
Place of Birth : Belleville, Ontario, Canada
Famous For being a: Singer, Songwriter, Guitarist, Actress,role Model
Genre(s) : Modern rock, Pop rock, Teen Pop, Punk Pop, Alternative rock
Instrument(s) : Vocals, Electric Guitar, Acoustic Guitar, Piano, Drums
Height : 5' 3''
Nickname : Avie or AV
Avril Lavigne was born in Belleville, Ontario, Canada on September 27, 1984. She dropped out of high school after the 11th grade when she secured a record deal. She's a sister to Michelle and Matthew and daughter of French-Canadians Judy and John Lavigne. Avril is a vegetarian owning over 100 pairs of converse! She has had 3 hit albums and won tons of awards. Avril was engaged to Deryck Whibley on June 25, 2005 and they got married July 15th, 2006. Avril To Sexy For Malaysia? You should create your own MySpace Layouts like me by using nUCLEArcENTURy.COM's MySpace Profile Editor!